The secret to breaking through this ceiling lies in visible technology.
In this article, we'll give you a behind-the-scenes look at New York City-based practice, Lemchen-Salzer Orthodontics, to show how investing in visible technology helped skyrocket the growth of the Lemchen-Salzer practice. We hope to show you how you too can invest in visible technology to give your practice the visibility it deserves.
"If you want a return on your investment, the best technologies to invest in are the ones the patient sees."

– Dr. Marc Lemchen Lemchen Salzar Orthodontics – NYC
By investing in visible technology, you will:
And what's more… Your patients will become walking advertisements for your practice.
This article will walk through your patient's experience with your practice, showing you how you can revolutionize patient satisfaction and drive exemplary results through visible technology.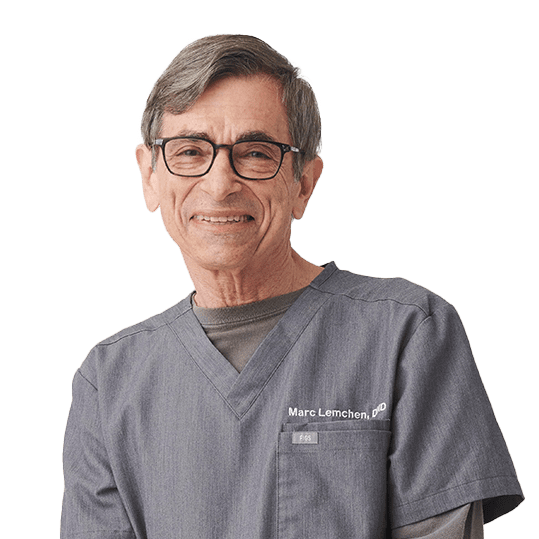 Who Is Dr. Lemchen?
Dr. Marc Lemchen, of Lemchen and Salzer-Orthodontists, has pioneered cutting-edge technology and patient-centric experiences propelling the practice to rise to being a premier practice in New York City. Their trademarked "Lemchen-Salzer Smile" is sought-after by many.
How Can Lemchen-Salzer Orthodontics' Insights Improve Your Practice?
A behind the scenes look at Lemchen-Salzer Orthodontics' success gives a blueprint for the pillars of Visible Technology. Investing in Visible Technology will improve your patient's experience with your practice.
By using the tools outlined, you will see that patients are more proactive and engaged in their treatment, and most of all, they'll be thrilled with the high-tech, personalized care they're receiving.
And here's the good news, the Visible Technologies implemented in Lemchen-Salzer Orthdontics will work no matter where you are in the country or what kind of budget you're starting with. Learn more about their practice here.
Now, let's dive right in so you can see different areas where their practice implements visible technology.
During the Patient Visit:
Patient Image Capture via Intraoral Scanning – 3D CBCT Imaging
Lemchen-Salzer Orthodontics has implemented digital technology throughout a patient's visit. For example, with the implementation of the Itero Intraoral Scanner, patients are able to bypass the painstaking process of taking impressions and creating models the old-fashioned way. Every clinical team member is perfectly comfortable and extremely proficient at scanning. They have an adequate number of scanners to ensure that patients and staff are not waiting for a scanner to become available.
"Parents come in having prepared their children for the worst, remembering their own experiences, but once they saw the scanners they said 'Oh my Gosh, you don't have to do that anymore? I hated it! Thank goodness my child doesn't have to experience that.'"
Lemchen-Salzer Orthodontics also utilizes 3D CBCT technology from Dexis i-CAT which increases the wow factor of visible technology at the practice. These impressive looking machines generate exquisite images of the patient.
Not only do these intra-oral scanners avoid the need of taking impressions, combined with the 3D CBCT images, the patient is presented with clear images of their entire mouth and facial structure which facilitates communication between the patient, parent, team members and the orthodontist.
Through these images they can understand what they're seeing and gain a better grasp at the protocol prescribed by the doctor. There is no magic in orthodontics, patients are more likely to be compliant if they can clearly visualize what they need to accomplish and how they will reach that goal.
With an Intra-oral scanner, the Lemchen-Salzer team is able to take quality scans of the patient's teeth and through the use of 3D printers, like those offered by by Desktop Health, create an exact 3D printed model of the patient's teeth, Additionally, Dr. Lemchen combines intraoral scans and 3D printing technologies to create custom printed molar bands, ensuring a precise fit and saving visits and time as well. Trust us, patients love it.  Not only is 3D printing cutting edge and techy, 3D printing is reliable, quick, and cost-effective, helping Lemchen-Salzer Orthodontics' team to deliver an exceptional patient experience.
Intraoral scanning, 3D CBCT, and 3D Printing visually demonstrate their desire to make their patient's experience with their practice exceptional, a great user experience.
After their Visit:
Remote monitoring apps such as Dental Monitoring boosts patient compliance, reduces the number of patient visits required, and drives patient engagement. Through this program, you can customize patient protocols and choose the information you want them to see. Your patients can take Intraoral images, using their smartphone, from anywhere in the world, and deliver them right to you for assistance, advice, and instructions for their next steps.
Orthodontists can also quickly and easily communicate with each patient through the patient portal, ensuring your patients receive personalized and conscientious care from your team.
Through this remote monitoring app, you are clearly documenting to them their treatment objectives, their degree of compliance, and keeping them informed about their patient-driven progress. The clinical team will not have to take the time filtering frequently asked questions and patients will be able to experience this Visible Technology application right from their smartphone.
And now… the pièce de résistance. Meet Zeeno.
Zeeno is Lemchen-Salzer Orthodontics' robot assistant and what they state is one of the best investment made in visible technology for the practice.
When patients visit Lemchen-Salzer Orthodontics, they are introduced to Zeeno and know they've just walked into an orthodontic practice of the future! Patients over the years have often noted that the Lemchen-Salzer practice has always had  cutting edge technology.
"Zeeno has given us a new identity, we were always known for the "Lemchen-Salzer Smile" but now, people come in and say, 'Oh, this is the robot office' or 'I came to see the robot.' Zeeno is a focus in the office; a differentiator and identifier which separates us from every other practice."
"Zeeno has given us a new identity, we were always known for the "Lemchen-Salzer Smile" but now, people come in and say, 'Oh, this is the robot office' or 'I came to see the robot.' Zeeno is a focus in the office; a differentiator and identifier which separates us from every other practice."
Zeeno has radically changed the patient's experience.
Who could have their first experience with a robot in a health-care office and not share that experience with their friends and neighbors? Parents follow Zeeno around taking videos of the robot doing its job. Kids and adults take selfies of themselves with Zeeno and share them online.This commitment to "visual technology" has further elevated the "user experience" in the Lemchen-Salzer practice.
Zeeno takes the place of having staff members escort patients from the reception area to their treatment chair, saving hours of paid "human" time every day. While Zeeno moves to reception and summons the patient to follow, the chairside team member is preparing the chair for the patient.  In a busy practice, the minutes saved at every patient visit quickly add up to real cost savings.  Zeeno, the robotic assistant, has become a tremendous aid to staff, taking instruments to the sterile center and even retrieving appliances, like retainers, from an in-house lab. Zeeno can be programmed to access videos with relevant educational information for the patient and or parent, engaging them in their treatment process while they wait.
Every minute that Zeeno frees up allows the team to focus on delivering exceptional care directly to the patients. 
This visible technology-driven, world-class patient experience is what separates Lemchen-Salzer Orthodontics from other practices and ensures growing success.  Lemchen-Salzer Orthodontics has committed to keeping the patient their priority, and these visible technology strategies have not only helped them achieve this goal but have become the one of the keys to their success.
"A satisfied patient won't grow your practice. What you want is a thrilled patient, a raving fan! Someone who's going to go out and sing your praises. That's what Lemchen-Salzer always has on their mind and why they choose to invest in Visible Technology."
We know that you've put your all into your practice, it's time you see the results you've been dreaming of. These easy to implement strategies will bring your practice into a whole new league, elevating every part of your patient's journey and giving you the competitive edge to go the distance.
Investing in Visible Technology, will help you reach your goals and give your patients an experience so unique and enjoyable they'll have to tell their friends.